On Wednesday 20th of November 2019, Steel & Tube hosted a Product Tradeshow to showcase some of our diverse product. We also displayed a selection of everyday material - providing a snapshot into how a structure is built from the ground up; drainage, services, cladding, fastenings and finishing a building with a range of Steel and Tube product.
Our Auckland based Stainless business unit provided help and resources, and paired with some local ingenuity, allowed us to fill the venue with exciting displays accompanied by Product Specialists. Some of our Specialists even travelled all the way from Australia to offer support with their extensive product knowledge.
The Product Tradeshow invitation was targeted at potential new business, as well as regular customers. We also invited clients involved with product specification and design – such as Architects, Design and Consulting Engineers, and Building Consultants. It was also promoted as a networking point encouraging people to come along and make contacts of their own.
Highlights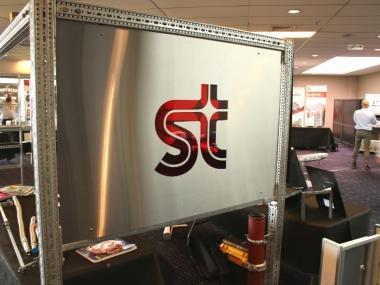 The stunning Framo Display was the focal point of the room, and a highlight of the evening. The team used the 2m tall sides of the frame to hang products, billboards and even a large TV. Customers could view items like drainage pipes and fire sprinklers in an application-type setting. The angled front of the Framo Display also contained the pièce de résistance - a large lasercut Steel & Tube logo in stainless sheet - backed by red Perspex.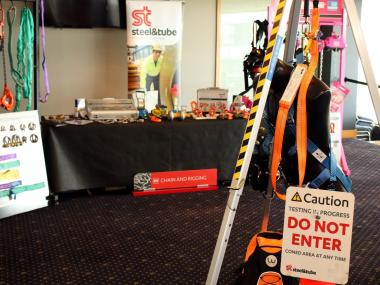 The Chain and Rigging area also received a lot of attention with its creative set up, featuring the dangling TradeShop dummy set up in a harness!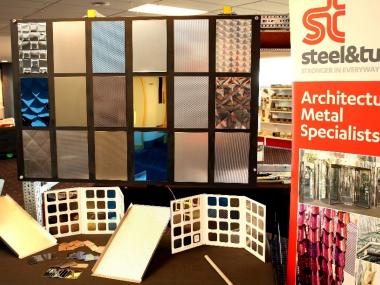 Another eye catching feature of the central display was the Rimex board, shown here. This contained a Blue Mirror sample (bottom row) which is being installed as interior cladding in the Christchurch Convention Centre.
A recurring comment we received from attendees was "Wow, I didn't know you did that!"
It was great to see that the audience were able to extend their knowledge at the tradeshow, and for designers to see and touch the products. The Rimex range is particularly good when you are able to view the samples directly - as opposed to on a computer screen - as you can move the sample around and see how the light reflects and the colour changes in different environments and angles.
The Show was a huge success, and was an exciting and informative experience for everyone involved!
If you're interested in the Steel and Tube product range, click here.