The world of Infrastructure is always evolving, an industry innovates, progresses, and adapts our necessary amenities to suit and shape the future. With a progressive and dynamic industry such as infrastructure, it's important to encourage the best and diverse talent into our sector. Putting Infrastructure at the front of minds as a career for females is a challenge being embraced by Steel & Tube.
Recently Industry leaders took part in Girls in Infrastructure, an event which connects women from infrastructure with secondary students that are contemplating which career pathway to embark on.
Historically a male-dominated sector, Girls in Infrastructure aims to inspire, educate, advocate and most importantly, break stereotypes for young women interested in a rewarding career path involved in transportation networks, energy systems, water supply, telecommunications and more.
We were honoured to put together a team of outstanding women to present a range of business operations and career paths available in Steel & Tube. Here's what they say about working in the infrastructure industry:
Carolyn McGivern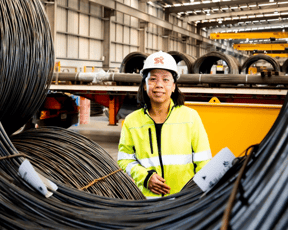 Position: Auckland Manufacturing and Operations Manager
Tertiary Education: Bachelor of Mechanical Engineering, Auckland University
"I've been working in manufacturing for the last 25 years. The best part is that it's never boring. My job is to make things go smoothly, making improvements and streamlining the process."
Michelle Kingham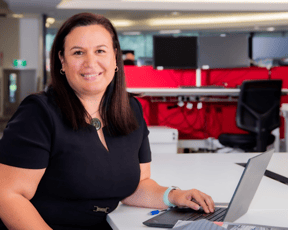 Position: Group Learning and Development Manager
Tertiary Education: Certificate in Adult and Tertiary Teaching
"Starting in a Customer Service role, this choice led me to some amazing roles and companies with a career in Customer Service spanning over 25 years."
Louise Grindley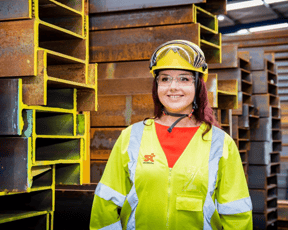 Position: National Environmental, Health & Safety, Training & Wellbeing Manager
Tertiary Education: BSc Hons Information Studies, Post Graduate Certificate in Education
"Working at Steel & Tube I've gained so much industry experience working with those handling steel, to the purchasers to the Digital department and beyond. There are so many varied roles at Steel & Tube to choose from."
Nadia Arendse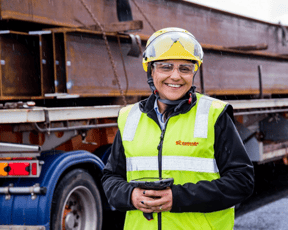 Position: Distribution Centre Manager (Carbon Steel, Fittings and Fastenings)
Tertiary Education: Nursing, Military training, Certificate in Materials Management, Advanced Certificate in Supply Chain Management
"I've learned many skills along the way, but the most important thing I've learned is that I am good enough, and can do anything I put my mind to. In my current role as a Distribution Centre Manager at Steel & Tube, I strive to achieve customer delivery excellence, support the well-being of my staff.
Opportunities in Steel & Tube
Steel & Tube is on a mission to create the most diverse steel company in New Zealand! At Steel & Tube, we believe in equal opportunities, and know that diversity is the key to success! Our aim is to actively, year on year, increase our female representation in all areas of our business.
With over 800 skilled employees in a national network of branches and distribution centres, the opportunities for growth and development are endless. A wide range of career options exists in Digital, Warehousing, Manufacturing, Customer Experience, Finance, Construction and Sales, just to name a few.
We proactively support our employees' career growth through fortnightly MyChats, Wellbeing Workshops and onsite one-on-one Career Coaching. It's important to Steel & Tube that employees achieve their goals, because we believe when one of us succeeds, we all succeed.