ANOTHER GREAT TURNOUT IN 2016
Fieldays® is the largest agribusiness expo in the Southern Hemisphere and continues to grow in size with more exhibitor and visitor numbers than last year. Good weather, a great atmosphere and high levels of interest resulted in 130,684 visitors passing through the gates over the four days. Steel & Tube enjoys the opportunity to support our customers exhibiting and to display our extensive range of products including Hurricane rural products, roofing, steel, stainless steel, chain and rigging. It is also a great chance for people to talk to our team of experts on site. To find out more about Fieldays®, click on the link: http://www.fieldays.co.nz/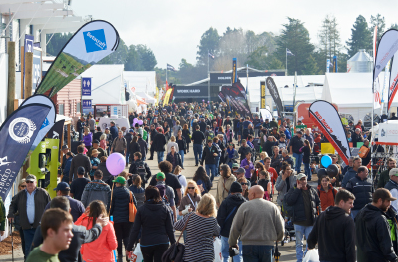 GUESS THE LENGTH OF WIRE USED TO CREATE THE TWO SHEEP DISPLAYED AT STEEL & TUBE'S FIELDAYS® SITE AND WIN THE SHEEP PLUS $300 WORTH OF STEEL & TUBE PRODUCTS COMPETITION
The competition proved very popular with 181 entries all keen to take the wire sheep home and win Steel & Tube product. Guesses ranged from 3.4m to 215m, with most entries in the 20m and then 30m range. The winner was a local dairy farmer from Waikato. Two other entries were close but the winning entry of 42.14ms was the closest to the actual length of 42.15ms. Our winner receives the two sheep (aka Ewen and Shaun) and $300 of Steel & Tube product of her choice from her local Hamilton branch. Congratulations to our amazingly clever winner and well done to all those who entered, we are very glad you enjoyed our challenge.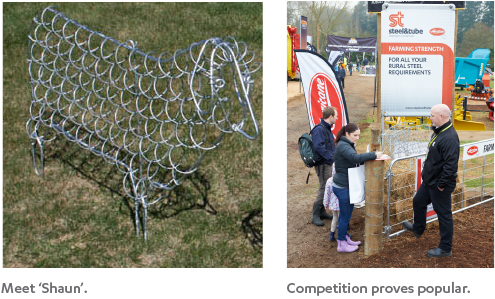 STEEL & TUBE SPONSOR STRENGTH IN THE FIELD
The New Zealand National Fencing Championships at Fieldays® attracts the best fencers from all over the country and Steel & Tube/ Hurricane are proud to be a sponsor of this premier event. Competition is always fierce and requires great skill, speed and attention to detail. Strength and endurance are also key factors as fencers can spend up to six hours competing in these marathon events.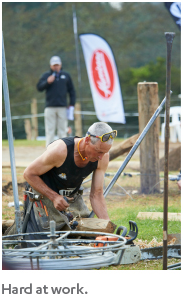 LAUNCH OF "THE GOLDEN PLIERS"™
We were delighted to be at the launch of "The Golden Pliers™, A History of Singles Champions from 1969-2015" by Nick Liefting, a former national and international fencing champion. This new book offers a unique and historic insight into the sport, the people and the industry as it tells the stories of the winners' journey to and beyond New Zealand's Premiere Farm Fencing Competition. As Nick Liefting said, it is remarkable that only 14 men have won this "Olympic" fencing event in 46 years. Profits from the book are being donated back into the industry by way of scholarships for young competitors.
To read more or to purchase this book, click on this link: thegoldenpliersbook.com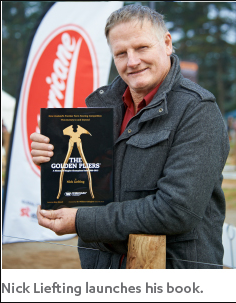 TRACTOR PULL A ROARING SUCCESS
Steel & Tube continue to sponsor this very popular event. This year the Tractor Pull competition drew huge crowds and a record number of entrants, prompting Andrew Reymer, Tractor Pull Team Leader to say, "We're going to have to start parking tractors on the bank!" New grandstand seating, refreshment area and a big screen also added to the entertainment and spectacle of this exciting sport.

It was great to meet you at Fieldays®, we look forward to seeing you all again next year.