As a proud supporter of New Zealand's key agricultural, horticultural and viticultural industries, Steel & Tube attended the 2021 FCNZ Fencing Trade & Best Practice Day hosted at the Waimate Showgrounds in the Bay of Islands.
Organised by Fencing Contractors NZ, the event was well attended by fencing contractors and farmers from across the country along with members of The Fencing Contractors Association of New Zealand Inc. It showcased leading products, services and equipment on offer for the fencing and farming communities. The Fencing Trade & Best Practice Day welcomed local Northland farmers and contractors. The main event was the Fencing Contractors NZ's AGM and conference which preceded the Fencing Trade & Best Practice Day.
Throughout the four-day event, there was engaging conversation centred on effective leadership, developing career pathways for young fencers to a certified level, raising industry awareness of product standards, managing staffing shortages through powerful product innovations and decreasing the required labour input during the fencing installation process. This conversation was complemented by the key trend of larger rolls of wire becoming increasingly prevalent. The traditional 100 or 200 metre rolls are now making way for 500 metre rolls. This is now possible due to developments in fencing production machinery. As a result, fencing contractors can benefit from greater efficiencies during the fencing installation process.
The Steel & Tube team displayed its iconic Hurricane branded range of product, namely boundary fencing, rapid post and Fortress brand Skara screw. The event provided an opportunity to better understand the challenges facing fencing contractors. Backed by our latest innovations, such as rapid post which is designed to speed up fencing and make installation easier, we enjoyed thought-provoking discussion with fencing contactors, farmers and the wider Fencing Contractors Association New Zealand community.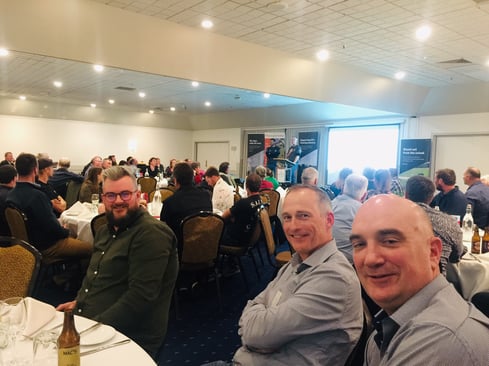 Pictured (left to right): Warren Guy, Account Manager, Brendan Smith, National Manager - Carbon Steel & Stainless, and Wayne Wheeler, Area Sales Manager.
With a focus on best practice and the future of the industry, it is exciting to see the potential of innovative fencing products to contribute to the success of New Zealand's agricultural, horticultural and viticultural industries.
If you're interested in Steel & Tube's Hurricane product range, click here.