Steel & Tube's competitive advantage is built on our reputation as a trusted and reliable provider and ensuring high quality, durable and trusted products is essential to what we do. An important factor in this is independent audits and certifications. As Fortress Fasteners is the fastening arm of Steel & Tube, we are proud to also have this certification apply to Fortress products.
We are delighted to have become the first company in New Zealand to achieve the Steel Construction NZ (SCNZ) Bolt Importer Charter (BIC), which 'ensures that fasteners and anchor bolts supplied to the local steel construction sector are sourced using good procurement practices and represents a mark of excellence for bolt importers in New Zealand'. Telarc performed a full audit against the Bolt Importer Charter for our Fortress Fasteners for the first time with no non-conformances raised.
Tait Mitchell, Group Product Manager – Fastenings, says:
"Steel & Tube is proud to be the first in New Zealand to achieve this certification. We started this journey in 2019 so this is a significant achievement. The BIC certification is a mark of quality and compliance. It allows us to provide our customers with the assurance that they are specifying a fully compliant product which they can trust to perform".
The Bolt Importer Charter scheme is the latest steel construction industry quality assurance programme, and complements the Steel Fabrication Certification programme and the Structural Steel Distributor Charter. Steel & Tube has now been certified against all three industry programmes and charters.
Quality is a priority for our group and every one of our businesses is ISO 9001:2015 quality certified. We were one of the first businesses to receive certification as a Chartered Member of the Sustainable Steel Council in its inaugural year of operation. This year, we successfully achieved recertification against the Structural Steel Distributor Charter, following an independent assessment carried out by Telarc, with no non-conformances identified. We also commission Lloyds Register to carry out independent audits of our supplier mills within Asia Pacific and Europe.
The Steel & Tube team would like to thank Tait for his diligence in helping us achieve this certification.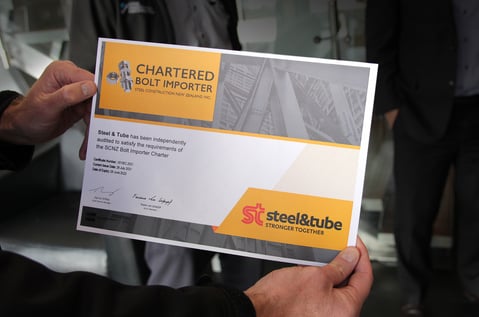 To learn more about the SCNZ Bolt Importer Charter scheme, click here.
Did you know that you can check prices and stock availability, request a quote, order online, download invoices and much more via our Webshop? Click here to register online or call 0800 196 757 to find out more.