This 1950s Christchurch bach is ready for a new generation, reclad and reroofed with Plumbdek® by Steel & Tube for a playful seaside retreat.
When purchasing a dilapidated cottage on Christchurch's Marine Parade, directors of JD Homes Jesse and Marcella De Wys knew that refurbishment would have its challenges.
'We've done some major renovations over the years, and while this small bach was very dishevelled, we knew the structure was sound,' says Jesse. The couple's vision was to rework the small cottage into a classic Kiwi bach. Using a simple palette of local materials, bright colours and patterns, they have transformed a basic weatherboard home into a bright and playful seaside retreat.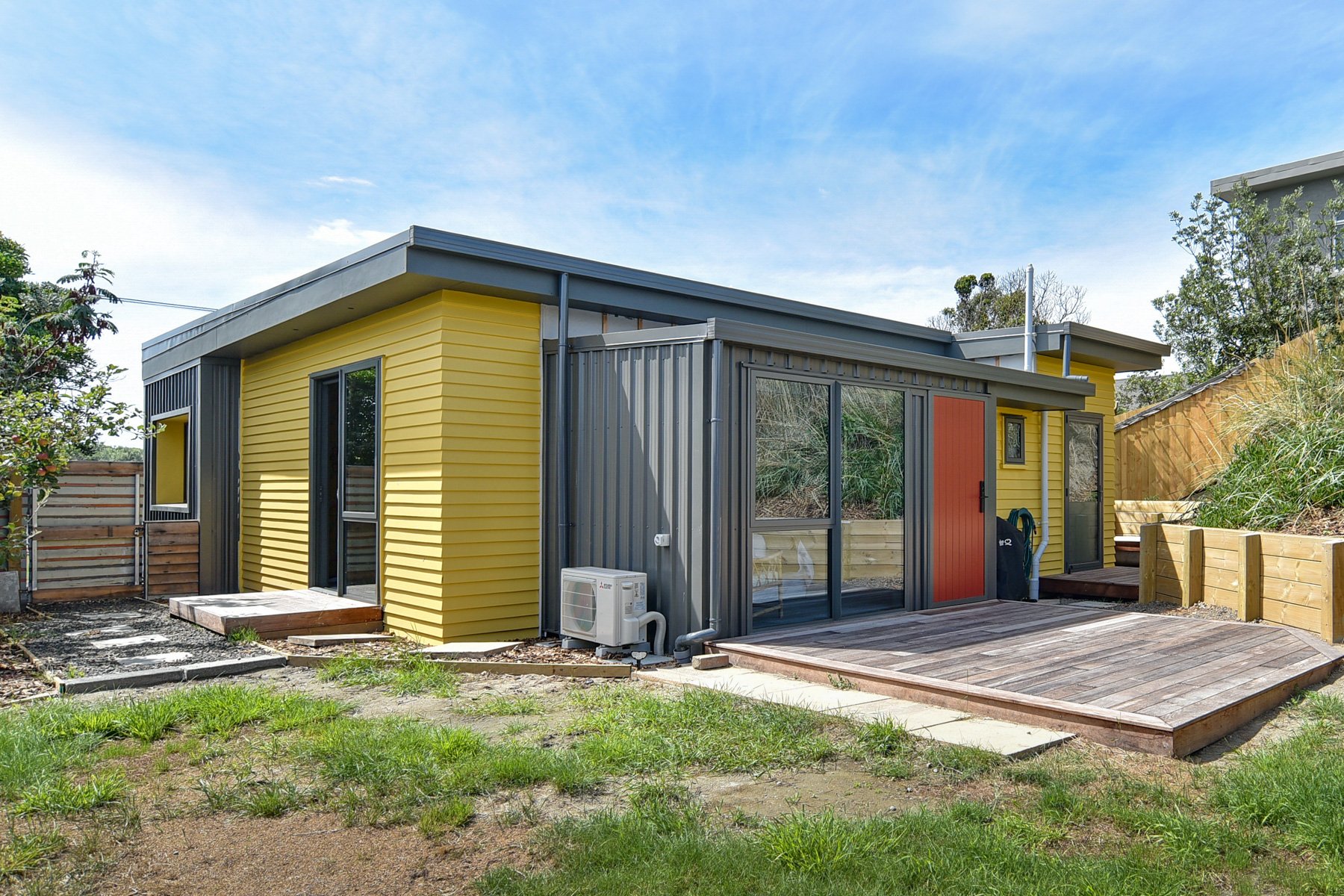 Locally made materials for character
Starting at the top, the couple have replaced the rusted corrugated iron roof with Plumbdek® by Steel & Tube, providing a modern look without losing the building's essential character.
This low rib, five-ribbed trapezoidal roofing addresses aesthetics, economy and performance. Finished in Thunder Grey, it has a minimum pitch of 3 degrees and is designed for residential and industrial roofing and cladding, as well as curving applications.
'For the cladding we have a mix of Plumbdek, in the same profile and colour as the roof, combined with timber weatherboards selected to match the original profile,' says Jesse. 'The grey of the steel combines with the pop of the yellow boards picked out in Resene Sunkissed.'
Plumbdek was ideally suited to the existing roof's low pitch, and for cladding the feature box windows and rear lean-to. 'The ridged profile of Plumbdek gives depth and shadow to the body of the house,' notes Jesse.
Celebrating the building's history
Inside, the design scheme plays with colour and pattern inspired by the original era of the bach. Fifties-styled wallpaper, a battened ceiling, light pendants and second-hand furniture all celebrate the original aesthetic, which lives on in the remodelled building.
Relining the structure using modern materials, the couple have created a new, sustainable dwelling they have fondly named the 'Splash Hut'. 'We've made a splash with the new materials and colours,' says Jesse. 'And while it's a small hut, it gives us everything we need for a modern-day dwelling.'
Reuse means waste reduction and lower carbon emissions
In deciding to rebuild what was a nearly ruined house, Jesse and Marcella were also making a statement about sustainability to support a low-emission industry. Extending the life of a structure enables more value to be extracted from the resources invested to build, operate and maintain it.
This made steel roofing an obvious choice. Steel is one of the world's most essential and sustainable building products – permanent, forever reusable and the most recycled substance on the planet, with up to 85% of steel from New Zealand demolition sites returned to steel mills for recycling.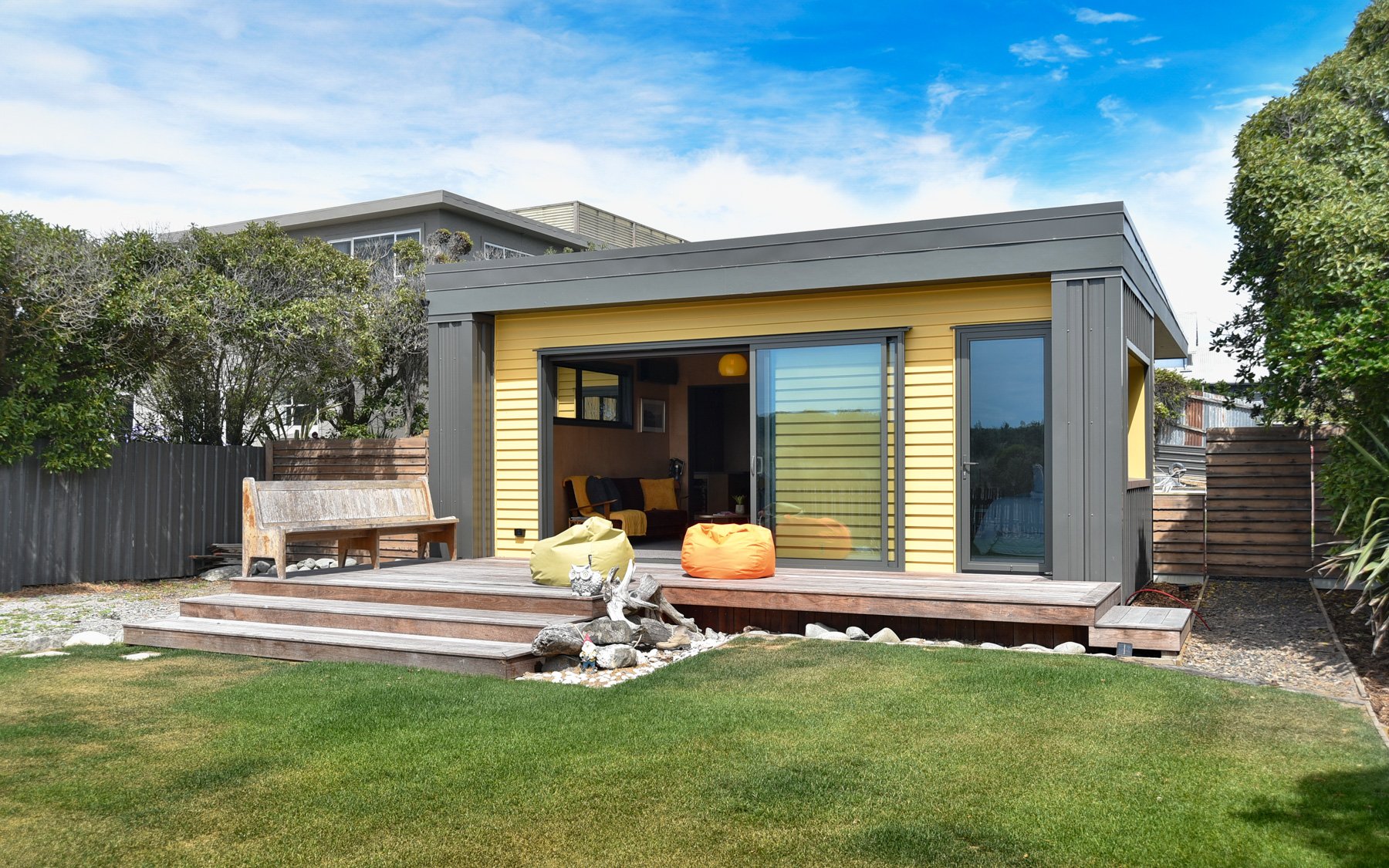 Feature products
The roof and feature cladding is Plumbdek® Thunder Grey. Plumbdek is available in a wide selection of materials including translucent sheeting, and can be ordered online from Steel & Tube's Webshop for delivery nationwide.
Product: Plumbdek®
Designer & Builder: JD Homes
Photographer: Karen Casey - 0277162390